INDIA COMPUTERS STOLEN http://www.dnaindia.com/mumbai/report-dna-special-pcs-stolen-from-under-top-cop-s-nose-at-central-railway-headquarters-1932449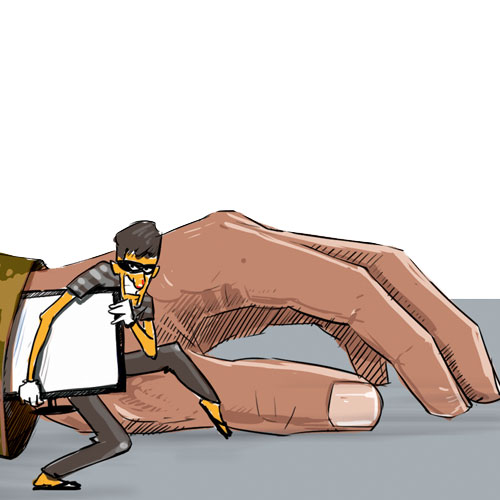 - Prashant Chaugule/DNA
So much for all that talk of tight security! Cocking a snook at high security at Chhatrapati Shivaji Terminus, especially after the 26/11 terror attack, unidentified thieves spirited away three desktop computers. Ironic as it may seem, the
computers were whisked away from the office
of the Central Railway's security chief!
The theft took place on the night of December 3 from the third floor of Central Railway's headquarters.
The theft exposes the porosity of the city's the landmark installation besides exposes chinks in its security armour.
After terrorists had struck the railway terminus in 2008, security measures had been beefed up at the station.
Even as railway officials remained tight-lipped in a bid to hush up the matter, a Central Railway official confirmed that the theft had taken place. "The
three computers, which were stolen
, were used by stenographers, not by officers," said an official.
Another railway official said on the condition of anonymity that investigations are underway and no arrests have been made yet.
Concern has also been raised over the sensitive nature of documents or data on the hard disk of the stolen computers.
The railway officials, however, played down this fear, "As the computers were not used by officers, the data would be limited to some innocuous statistics and routine letters typed by office staff," said the official.
Another source in the railways said that the police have zeroed in on one individual who has emerged a suspect in the theft case and also has a record of similar crimes.
"But this person is yet to be traced. For now, we are not ruling out the role of an insider," said the source.
It may be noted that the office of the security chief contains the data of the entire region, that is the Central Railway, thereby raising eyebrows about the security lapse. However, an official underplayed the incident by saying a thief wouldn't care about the amount of data stored, only about how much money he can make by selling the computers he steals.